Stepping into d'Good Cafe's flagship shophouse at Holland Village, this is one of the first things you'll see: A wall of words, detailing the inception of this humble establishment, which started as "a calling from God".
Founded by Mike Chin, an exceptionally spiritual man who took to the mountains to pray before embarking on this gastronomical journey, the entire business has been imbued with the Christian DNA and is at the core of why he started. From the mountains, to humble beginnings in a shophouse in Holland Village, d'Good now boasts an outlet in Takashimaya Shopping Centre, Ngee Ann City, and recently opened a new branch in Jewel Changi Airport.

Founder and tea master Mike Chin. Source: Selah
One of the things d'Good Cafe is known for is their bespoke coffee service, allowing each customer to create their own coffee blend. It all started with one question: What is the best coffee?
"I asked all the coffee experts," says Mike. "And to my surprise, everyone gave me the same answer. The best coffee is the coffee that you like."
"I always say it's like looking at a Picasso picture. To some, it's worth a million dollars. To some, it's like they don't understand what he's trying to portray. Coffee is something like that. It all depends on how you appreciate it. That's when we first started to do customised coffee for customers," he shares.
When it opened in 2012, the cafe was also one of the few joints in Singapore that roasted their own coffee beans. On top of that, people couldn't get enough of their indoor swings, a distinctive feature that made them a much loved hangout.
Instagram-worthy swings with a beautiful view out the window. Source: d'Good Cafe Facebook
Evidently, it's not just about the food or the decor, but also the experience for d'Good Cafe.
I sat down for a chat at their sophomore outlet at Takashimaya with Mike and the cafe's marketing director, Jasmin Loh, who shared a few nuggets of wisdom that led them to their current success.
Note: Want to get more regular customers to your restaurant? If you'd like a simple way to get more loyal customers, CandyBar can help.

Try it free here.
1. The cafe brings goodness to customers and the community
Mike's philosophy for running the cafe is rooted in a spiritual desire that translates a higher goodness into goodness in service. It is an ethos that is reflected in their CSR (corporate social responsibility) efforts from fulfilling the wishes of less fortunate kids, to taking part in a run organised by ex-offenders.
d'Good staff volunteers helping to serve seniors in the community. (Via d'Good Facebook)
Good also describes the gratifyingly top-notch cafe experience they provide. Placing the customer's comfort as the highest priority, the cafe was able to attract new patrons and make them stay. Jasmin recounts, "When we first started at Holland Village, we had customers who would just hang around with a cup of coffee, and walk barefooted in the cafe. It's like a second home."
Good coffee > good cafe > d'Good Cafe
Perhaps this feeling of comfort and home is why so many marriage proposals happen at d'Good Cafe. One of the happy couples had even had their first date at d'Good Cafe. 
2. Mike is good to his staff
In our interview, Mike and chirpy and friendly, despite not feeling at his best. It is immediately apparent that he is an exemplar of dedication and selflessness, attending to business instead of calling in sick (which he had every right to).
While these virtues paint him as a good boss, his relationship with the staff paints him as an ideal one. For one thing, Mike spots and nurtures the potential in his employees, whether permanent or part-timers.
"I look at every person as a hidden diamond that needs to be polished. A lot of times, you really need to give them the opportunity, and you will discover that they can do more than you think," he says. 
d'Good Cafe also conducts courses for international certification
Valuing the importance of his staff's opinions, the hands-on leader is always gathering feedback and suggestions from his crew. He also constantly encourages employees to experiment in the kitchen, and create something new. It doesn't even have to be your job. You can be a cashier or a chef, and still get an equal chance to contribute.
"From day one, we have been able to engage the staff to discover their potential," Mike says. "I always try to work with them to find out what they're good at and give them the opportunity. You'll be very surprised that at Holland Village, 70% of the food [on the menu] came from the staff."
In fact, it was a part-time barista who concocted the original Eggs Benedict dish that became a crowd favourite. d'Good cafe recently celebrated their third Eggs Benedict Day with their signature dish. A few staff members also contributed to the design of the cafe's merchandise and communication materials, such as brooches, sign boards, and a London-themed teapot.
Portobello Mushroom Eggs Benedict Source: Fundamentally Flawed
3. Good products are good marketing
Jasmin explains,
"The key ingredient is really offering good food and drinks because without this, no amount of other strategies will help."
That was how they attracted the attention of bloggers and social media influencers in the beginning. Stumbling upon "influencer marketing" without knowing its power, it all started when they were unexpectedly connected to a handful of fashion bloggers. They visited the cafe, and raved about the drinks and desserts online without taking a single marketing dollar.
One thing led to another, and soon after, a collaboration was arranged, with the cafe at Holland Village hosting a flea market for the bloggers. Jasmin recalls the endless queue that stretched from the MRT entrance, all the way to the cafe. She adds, "It even started raining, but the followers continued to queue, and they queued for hours."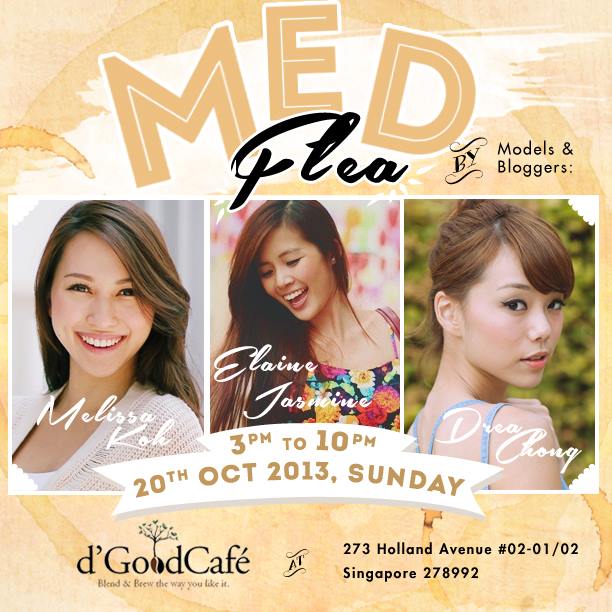 It sparked hype, and catapulted the cafe into the more mainstream radar. Jasmin says, "We could have a blogger posting something about our Maple Sea Salt Cheesecake, and for the next week, we'll get a lot of her followers calling our cafe, wanting to reserve that cake. So, we realised, influencer marketing really does have an impact on the business."
Since then, d'Good Cafe has served as the set for films and magazine cover shoots; hosted local celebrity fan meets, DJs looking to learn about coffee and latte art, and even played host to local and international celebrities from various industries.
Since then, influencer marketing (an affordable way to generate easy word of mouth) has been their main strategy to promote the cafe. They also focus on social media marketing and brand partnerships – strategies that reach out exactly and directly to the market they cater for. Nevertheless, quality offerings remain the root of it all, the central driver of effective marketing.
Though the business hasn't been entirely smooth-sailing, with inevitable disappointments, Mike insists that he has no regrets.
With his eye on the bigger picture, he believes that every decision (including those seeming mistakes) led up to where he is today, which, given d'Good Cafe's immense popularity, is a pretty good place to be.
From Holland Village to London, from Orchard to Changi: d'Good cafe has it all mapped out. via d'Good Cafe Facebook