Bus Boy.
Ahh, one of my favorite Seinfeld episodes. Many Seinfeld lovers would remember the episode but for those of you who do not, here is the clip:
Did you see how the manager treated the busboy for something he may have done by mistake?
He was scolded and then…
FIRED!
The reason why I showed this clip is – people make mistakes.
I know.
Sometimes they are unmotivated. Other times they might be lazy or tired.
But it doesn't mean you should just fire them (which, unfortunately is the usual course taken by a lot of restaurant owners.)
There are better ways to do this.
In this post, I will discuss different ways you can take to motivate your restaurant employees.
But before that, let's discuss the possible reasons behind such behaviour.
Put yourself in their shoes and think for a second. Why would you be grumpy, lazy or just unmotivated (or demotivated) at work?
My work is inferior.
I don't know where my life is heading. Do I have any room at all to grow my career?
There's no sense of security here. It feels like I can be fired anytime.
No ones cares that I put extra effort into my work.
There's no training and development here. I have no way to learn new skills in the restaurant business. What am I doing here?
I have too much work to do all the time.
There is no place I can go to take a break or rest for a while. I have to keep standing here.
What do you think happens next?
They either deal with the stress themselves, or leave you. But note: wayyy before that, their motivations and behaviours have already impacted your reputation and customer service.
How?
Demotivated or frustrated employees may:
Focus on themselves to deal with their stress levels. Instead of going above and beyond to ensure customer satisfaction, they may provide poor customer service due to the budding resentment against the restaurant.
Feel unengaged by the restaurant, which results in absenteeism, accidents or decreased sales.
Kevin Kruse, CEO of LEADx.org talks about employee engagement and its relationship with profit in this diagram:
Think they do not have the required knowledge to deliver his/her best. This happens when they are unaware of the organisation's expectations.
Look at this review on TripAdvisor:
Or this review:
As a result, your customers will be unhappy and may not return (or recommend) your restaurant. This ends up decreasing your revenues and affecting the goodwill of your restaurant business.
With that said, here are 7 simple tips on how you can motivate your restaurant employees to do better.
7 Simple Tips To Motivate Your Restaurant Staff
1. Work at the same level with other staff
I get it. You have lots to manage in a day.
But you should occasionally perform the same tasks carried out by the cooks, waiters or the busboy.
Offer them a helping hand if you see them stressed out. You could take over the job of the waiter by taking their orders, clear the tables or open the doors for your customers to exit.
For example, ask your new customers what would they like to have and take their order, clear the table once in a while or open the doors for your customers to exit.
You want to build a positive culture in your workplace by flattening the hierarchy and eliminating feelings of superiority and authority..
When your employees feel that you are willing to work at their level, they will become more encouraged and productive.
2. Recognizing their efforts and appreciating them
There are many ways of doing this well.
Here are some examples:
Discuss their achievements
You can discuss their achievements in your daily staff meetings. Most of the times, a simple "he did a really good of managing that cranky customer" is enough to motivate them. In my previous job, we used to have a weekly meeting to discuss the positive feedback for several employees.
It worked wonders!
You can have an employee of the month from each department. Pin a photo of the employee on a board (Wall of Fame) or give them a badge to wear. People love to be acknowledged and appreciated for their work.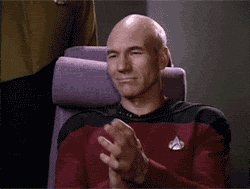 You can give a small monetary bonus or a day off for a bigger contribution from your employees. A great example is your waiter. Waiters play a crucial role in generating revenue for your restaurant and you should (if you haven't) think about how their role can be incentivized.
Get your staff to compete amongst each other for rewards. For example, get them to come up with great suggestions for improving your restaurant, and giving an incentive for the best idea. You could also encourage a little competitiveness amongst them by rewarding employees who get the most number of signups to your loyalty program.
(NOTE: If you don't have a loyalty program, you might want to check out CandyBar.)
If used well, incentives are NOT additional expenses and can be a worthy investment if your staff are kept happy.
3. Consulting them for ideas
While you may own or manage the restaurant, your staff are the ones who deal with problems on the ground level.
Consult with them on problems, involve them in decision-making, listen to their opinions and grievances on a regular basis. This is especially useful if they have been working for you for a long period of time, as they generally know what areas your restaurant can improve on.
It is important to make your employees feel like they are an indispensable part of the business.
4. Invest in your employees
Good employees are usually ambitious. They seek opportunities to advance and grow in the workplace.
Help them improve so that they can do a better job in your restaurant. Send your chefs and waiters to courses and workshops that improve their skills. Having an improved team will only serve to benefit your restaurant.
5. Give perks regardless of their positions
Whether it is the manager, waiter, chef or cleaner, all of them play an important role in the customer experience. While managers run your restaurant, it is the waiters who your customers deal with.
Nobody visits restaurants to suffer from a poor experience. No one likes grumpy waiters. The best way to keep all your staff motivated is to give them similar perks.
Pension or provident funds
Have a defined contribution scheme for all salaried employees and let them choose how much they would like to contribute. You can decide your contribution based on their tenure, age, contribution made to the business etc.
While you may provide healthcare cover for your management level employees, you might not have the same for your staff or hourly paid employees. You can invest in medical insurance if they don't have any.
Similarly, you can invest in a group risk policy which covers life, income and accidents.
Provide them with maternity/paternity benefits, sufficient vacation days, free meals, discount schemes, etc.
6. Give them food or discount it for them
Fed employees are happy employees.
Take your crew out for lunch or dinner (or have it at your own restaurant) once in a while. If you are unable to carve out time, distribute coupons that can be redeemed at your own restaurant.
7. Have a break area for them to relax between work
It is impossible to demand your employees to work non-stop without rest. Let them unwind during the downtime of the off-peak hours.
It is important that your employees have a place to relax. Jazz it up a little and ensure some privacy. They will know you care for them.
If they are relaxed, they are energetic and motivated to work. After all, no one likes a tired server!
If you start implementing any of these 7 tactics, you are bound to see a difference in the attitude of your staff and a substantial increase in your sales.