Let's face it:
Running a restaurant is tough.
As an owner, you have to handle every aspect of your business, from cooking to managing, from accounting to marketing.
Chances are – you feel like you're not equipped to deal with everything that's coming your way.
Every problem seems important. Every problem seems urgent.
But you have no idea how to solve them.
It doesn't have to be that way.
Think about it:
Managing a restaurant is not new. Hordes of people before you have tried to set up their own restaurants (even multiple of them) and have either succeeded or failed. Many on the sidelines have also took up the task of analyzing what they did well, and what mistakes they made.
That means — most of the problems you face today have a solution. 
And these solutions have written about over and over again in different restaurant management blogs.
Today, it's my pleasure to introduce you to some of the best restaurant blogs.
The Top 17 Restaurant Blogs A Restaurateur Should Read 
Restaurant Business is both an online blog and an offline magazine. They produce daily content that teaches restaurateurs how to grow their business and improve their profits. They also touch on the latest food and beverage (F&B) trends and concepts, changes in consumers' tastes and what new strategies other restaurants are using.
Most Popular Articles:
Part of a restaurant web design company, Restaurant Engine's blog offers tips on managing and marketing a restaurant, website design, social media and video.
Most Popular Articles:
5 Creative Ways Restaurants Earn Loyal Customers
5 Local SEO Tips For Restaurants
Little Known Ways to Attract More Customers To Your Restaurant
The CandyBar blog is well, our very own blog! We post tips on restaurant marketing and management, hiring and retaining employees, customer service, loyalty programs and many more. We also interview successful restaurant owners to find out what made them successful – and share their tips with you.
Most Popular Articles:
19 Instagram Marketing Experts Share Their Insights On How To Grow Your Following From 0 – 10K In 30 Days
How Katto Grew Their Business By Listening To Their Customers
How Wicked Garlic Grew To 3 Stores in 4 Years By Focusing On Only One Thing
Toast is a all-in-one restaurant management solution that helps restaurants streamline their processes and provide the best customer service. Their blog provides information about the latest foodservice trends as well as restaurant management resources.
Most Popular Articles:
The 50 Best Restaurant Experts and Chefs to Follow in 2018
7 Signs You've Spent Way Too Much Time Working in Restaurants
The 12 Worst Mistakes When Marketing for Restaurants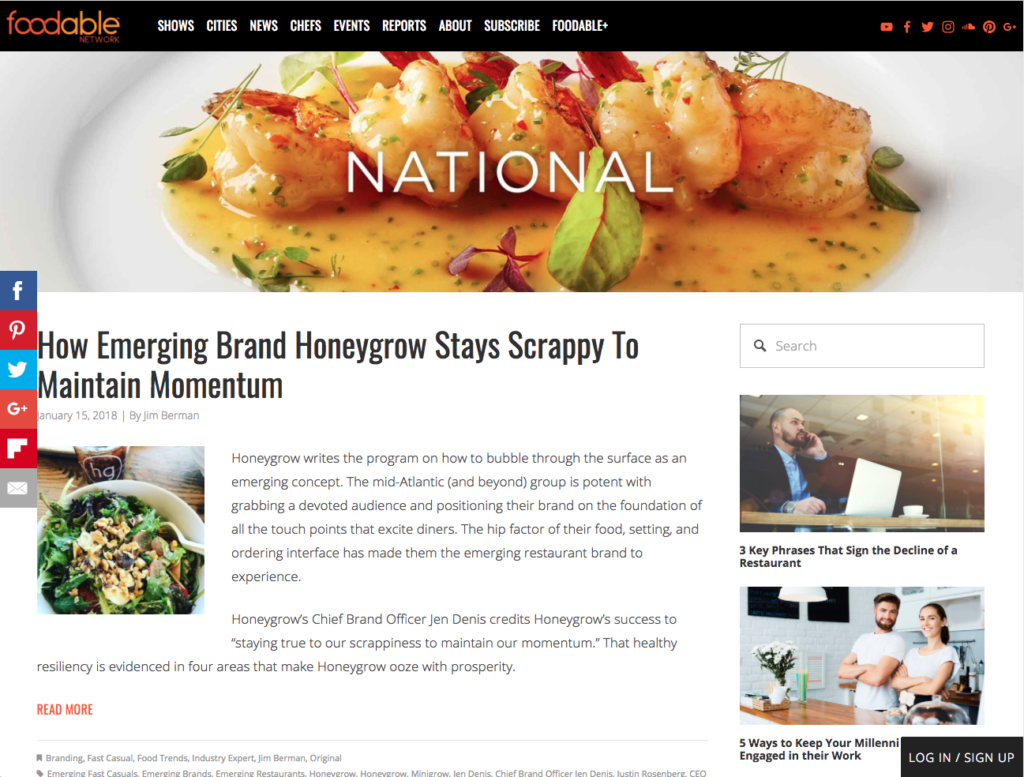 Foodable is the brainchild of restaurant industry publisher Paul Barron. The blog covers restaurant management tips, best practices by other restaurants, as well as the latest news in the restaurant industry.
The best part?
The blog is separated by geography – allowing you to do a quick view on the latest news affecting your city.
Most Popular Articles:
10 Steps To a Total Menu Makeover
Want a Better Business? 5 Things Restaurants Need to Change
3 Reasons Why Your Independent Restaurant Needs a Marketing Plan – Right Now
Restaurant Den is an all-in-one website design and online ordering solution for restaurants and food trucks. As such, their blog covers tips like website design, social media and marketing.
Most Popular Articles: 
20 Free Stock Food Photography Websites For Restaurants
The 20 Best Point of Sale (POS) Systems For Restaurants
Why Restaurants Fail & How You Can Avoid Their Mistakes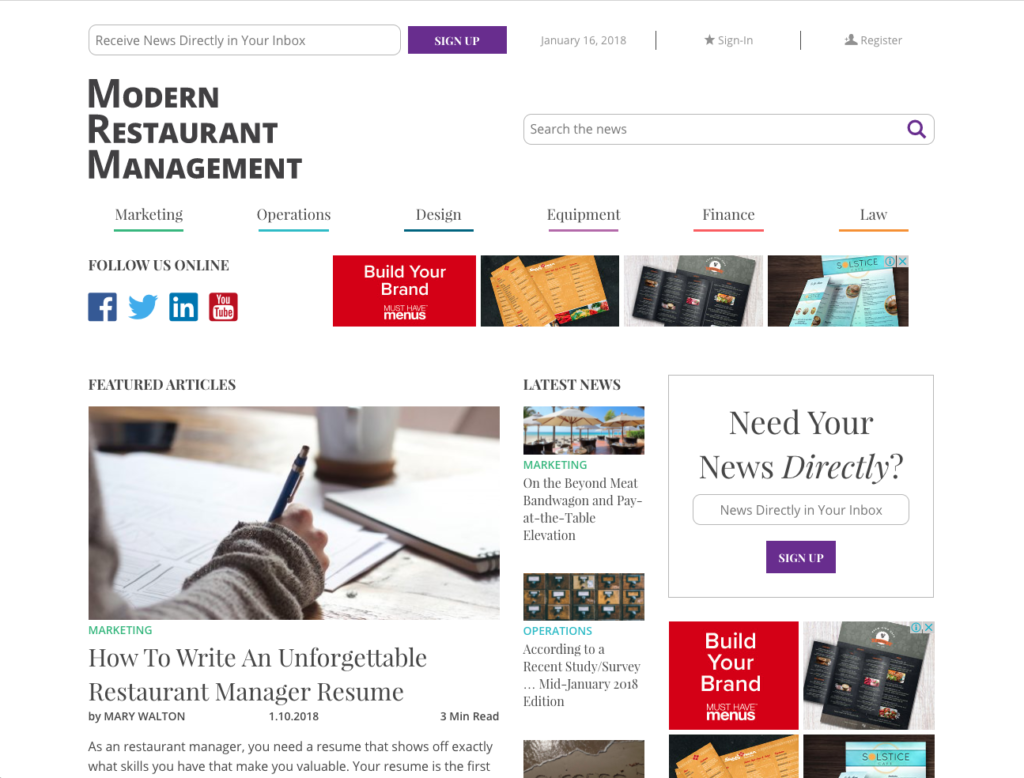 Modern Restaurant Management is a restaurant blog dedicated to covering every aspect of the restaurant business – from marketing to operations, and even till law and finance.
Most Popular Articles:
From Boston to LA: Labor Issues Top of Mind for Restaurant Operators
The Psychology Behind Great Restaurant Design (Infographic)
How Technology Helps Chef Alex Garcia Manage His Restaurants
Uncorkd is an on-premise beverage management software company, and as such, their blog is mostly dedicated to topics related to alcohol and bar management. If you run a bar, or have a restaurant with a bar, Uncorkd's blog is worth a read.
Most Popular Articles:
Do You Ask These Critical Interview Questions For Restaurant Managers?
State of the Bar: 2018 Cocktail Trends
State of the Bar: 2018 Wine Trends
Oddle is an online ordering system for restaurants, mostly targeted at countries located in Southeast Asia. Their blog is a smorgasbord of tips ranging from restaurant marketing to how F&B technology can benefit your business.
Most Popular Articles:
[Free Infographic] The Ultimate Guide To Restaurant Marketing
8 Reasons Why Your Restaurant Online Ordering Platform Matters To Your Customers
Online Marketing Tips For Restaurants
A food delivery service like UberEats, the GrubHub blog focuses on delivering restaurant management tips to restaurants, with the aim of helping them run their restaurants better.
Most Popular Articles:
3 Ways Giving to Your Community Can Impact Your Bottom Line
4 Tips to Reach PCI Compliance
The Tech Revolution – Is Your Restaurant Ready?
OpenTable is the popular restaurant reservation app, and it runs a blog aimed at providing tips, resources and fresh ideas for running a successful restaurant. Every week, they round up their favourite articles in a blog post. If you're struggling for time to read, then the OpenTable blog is a one-stop shop for all the latest news.
Most Popular Articles:
One Year In: Inside a Restaurant with No Service Staff
How I Got Promoted: General Manager Pierre Siue of Restaurant Daniel
Going Greek: How Nicholas and George Pagonis of Kapnos Are Building a Dining Empire
Similar to Oddle, ChowNow is an online ordering system for restaurants. Its blog has one sole aim – to be the #1 source for the latest in restaurant marketing, tech and takeout.
Most Popular Articles:
Behind the Counter with Anya Michelson and Family of Paper or Plastik Cafe
4 Reasons Not to Use Your Restaurant POS for Online Ordering
Easing the Burden of Labor Costs at Your Restaurant
This is a unique blog, in the sense that it is not written by any restaurateur or restaurant-related services, but by tax accountants. Instead of focusing on restaurant marketing and management (like all the other blogs do), the Restaurateur focuses on a largely ignored but hugely important issue – taxes and financial management.
Most Popular Articles:
Top 10 Challenges Facing Restaurants
Top 10 Challenges Facing Restaurants Cont. 
Marketing4Restaurants helps Restaurants find new customers and return them into repeat customers. This blog differentiates itself by offering a podcast – where the owner of the blog interviews successful restaurant owners every week.
Most Popular Articles:
Restaurant Rescue – How To Turn Around A Failing Restaurant
Lessons From Restaurant Lume, The Best Restaurant in Australia You've Never Heard Of
The Best Restaurant Chalkboard Ads
Focusing specifically on fast casual restaurants (the name says it all), FastCasual has been around since 1997, reporting on the latest news, trends and people that affect this particular industry.
If your restaurant belongs to the fast casual segment, be sure to keep up with this blog!
Most Popular Articles:
Study: Americans still love In-n-Out, Chik-fil-A , Chipotle, Firehouse, Marco's Pizza
EXCLUSIVE: Boloco CEO shares brutally honest tale about making it in the restaurant biz
Success stories, opinions, and the latest news, the Restaurant Insider blog, well, promises to be the "insider" and supply you with tools, information, news and conversation that you won't get anywhere else.
Most Popular Articles:
We Are At the Beginning of a Mead Maker Renaissance
I Turned One Food Truck into a Culinary Empire That's Still Growing
I Lost My Restaurant in Hurricane Katrina. More Than a Decade Later, I'm Finally Reopening.
A cloud-based POS software company, Kounta features interesting success stories of different restaurants, punnily named "Behind the Kounta".
Most Popular Articles:
Behind the Kounta: How Cousin Jacks Went From Being a Local Market Stall to Award-Winning High Street Food Retailers
Behind the Kounta: How Mother Vine Became the Best Wine Bar in South Australia
Behind the Kounta: How Digitally-Driven P&R Coffee Roasters Became Trailblazers in Hospitality Technology and Sustainable Sourcing
Solve Your Restaurant Problems By Reading These 17 Restaurant Blogs
There you go.
The top 17 restaurant blogs covering all aspects of the restaurant business – marketing, management, news, trends – that will help you to grow your business and solve your problems.
Remember:
Your problems have a solution.
And they have already been written down.
All you have to do is to read these blogs for advice and inspiration.